How-To Design a Gorgeous Easter Table
Mar 1, 2019, 17:14 PM
Easter is a special time for families to gather and celebrate with church services, egg hunts, chocolate bunnies and, of course, food! If you are cooking a feast for your loved ones this year, you're probably thinking a lot about how to decorate your dining table. Here are a few of our favorite ways to bring the fresh springtime feeling indoors!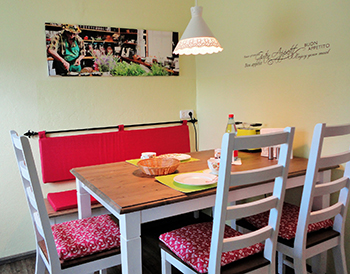 1. Paint your dining chairs: We know it sounds a little radical, but you can break up your regular, matching dining set by painting the chairs in two or three colors that work well together. Pale aqua and cream look nice for spring or a mix of pastels and brighter hues won't steer you wrong. Of course, you can give all your chairs the same coat of light green, white or pale blue paint, too!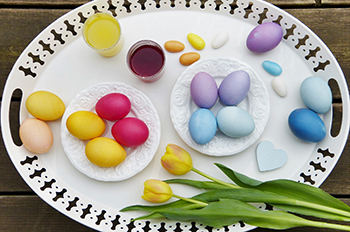 2. Embrace the big tray: You want your guests to feel special when they come to your home. One simple way of doing that is through pulling out a colorful dining tray you don't use very often and loading it up with dinnertime essentials. Think napkins, plates and utensils with a vase of fresh flowers. Trays are also great ways to share appetizers like cheese and crackers, grapes, nuts, fruit and pepperoni with your company. Or keep it simple with some patterned glasses, a few beverage options, slices of lemon and a fun spring statue of a rabbit.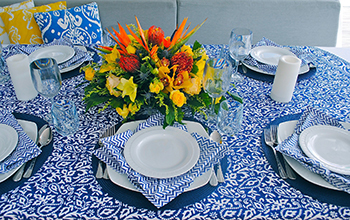 3. Bring the garden inside: Add a burst of the great outdoors to your dining table with a green plant tucked into a petite urn. After the cold and dreary months of winter, looking at it is sure to brighten your guests' day. Of course, you can also still present your favorite seasonal flowers – tulips, daffodils, peonies or pansies – in patterned vases around the room. If you want to get more creative, add blossoming branches to the mix! Pluck them from your yard and adorn the table with their beauty.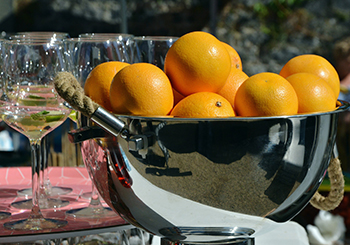 4. Fruit isn't just for eating: A bowl of lemons or oranges can go a long way toward adding a pop of color to your table. It doesn't just bring a sense of liveliness to the room, but it's also an easy, affordable and practical way to incorporate nature into the mix – not to mention giving your guests something to snack on while they wait for dinner!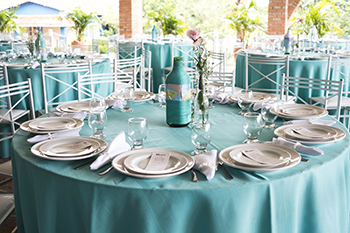 5. Even tables like new outfits: Start off by measuring your table and figuring out the desired drop – the amount of cloth that you want to leave draped over the edge of the table toward the floor. Make sure you're looking at tablecloths that are the right size. For more formal occasions, tablecloths typically have a drop between 12 to 30 inches – which is all the way to the floor. Many holiday tablecloths are made from linen or cotton because they're absorbent, soft and durable so they'll last through multiple family get-togethers. Choose a color that complements the existing palette of your dining room. Bright colors look nice in sunny rooms, and pastels are an option if you're dining outside. In general, spring is a time for softer colors that bring a level of refined sophistication with them. If your event is more formal, white and ivory are always safe options.
Check out our exhibitor list by category to find the perfect vendor for the ideas you're dreaming up!

FEB. 22-24 & MAR. 1-3
THE PARK EXPO AND CONFERENCE CENTER