Picking the Perfect Patio Furniture
Feb 12, 2020, 13:00 PM
Selecting the right patio furniture for your outdoor space has the power to transform it into a second living room in the warmer months. Designing a comfortable and inviting area that beckons you to step outside and enjoy the sights and sounds of nature is the goal. Here are some of the top tips for creating a relaxing oasis that will remain welcoming for years to come.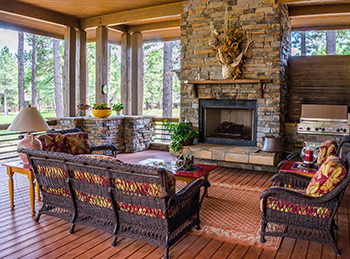 Let Your Life Speak — What do you really want to do with this space? Make a list of your favorite outdoor activities and let that knowledge guide your purchasing decisions. If you host many dinner parties, consider a dining set for balmy summer nights. If you're more likely to be found curled up with a good book, a chaise lounge, hammock, rocker or recliner might be in order. Remember a fire pit for cooler autumn evenings never goes out of style (plus, it's great for making s'mores)!
Comfort First – Make sure to take a seat before you pull out your credit card. Comfortable seating will be used so much more often than hard, uncomfortable selections. Bring your kids along for this shopping trip – they'll be quick to tell you where they want to take a nap!
Skip the Headache – You want to maximize your time loving your new hang out, not trying to keep it in one piece. More often than not, cedar, wrought iron and teak pieces can withstand nature's mood swings. Plus, furniture made from these materials will continue to look nice as the years roll by. On the other hand, plastic resin pieces may become brittle over time, cheap wood products eventually take a beating from the sun and aluminum chairs can blow away with a strong wind.
Space Invaders – You can add years to the life of your patio furniture by storing it in a protected location like a garage or basement during colder months. However, if that's not a possibility, look for the kind of furniture that folds up easily or can be taken apart for compact storage.
Bring the Indoors Outside – Don't forget to buy a beautiful all-weather rug! Many quick-dry choices exist that are soft on bare feet as well as visually appealing. A rug will complete the look of your patio space and add some extra luxury.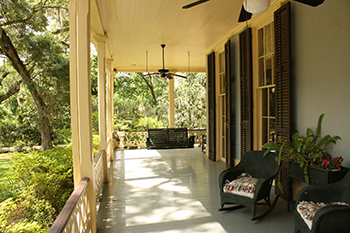 Works Hard for the Money – Make the most of your patio by selecting hardworking furniture. For example, an ottoman that doubles as a storage container will be the perfect place to keep books, towels or a checkerboard safe when a thunderstorm strikes. Likewise, your favorite bench can serve double duty as an extra spot to place food during parties.
Measure Twice, Cut Once – Remember to consider how much space you have to work with and how it's shaped before you buy furniture. Treat your patio like any other room in your home and measure the areas before you shop. If your space is on the smaller side, consider a bistro-style table and accompanying chairs for al fresco dining. Make sure to leave enough space around the perimeters for people to be able to walk around comfortably no matter what you choose!
Gain more insights about creating an idyllic patio at the Southern Spring Home & Garden Show from Feb. 28 to March 1 and March 6 to 8 at The Park Expo and Conference Center in Charlotte.